St. Michael's Ukrain­ian Catholic Church is a very spe­cial place for my fam­ily. A lit­tle less than a year ago, my sis­ter and brother-in-law were mar­ried there. Then just this past week, my niece, Gigi, was bap­tized in St. Michael's. The bap­tism was very nice and extremely special.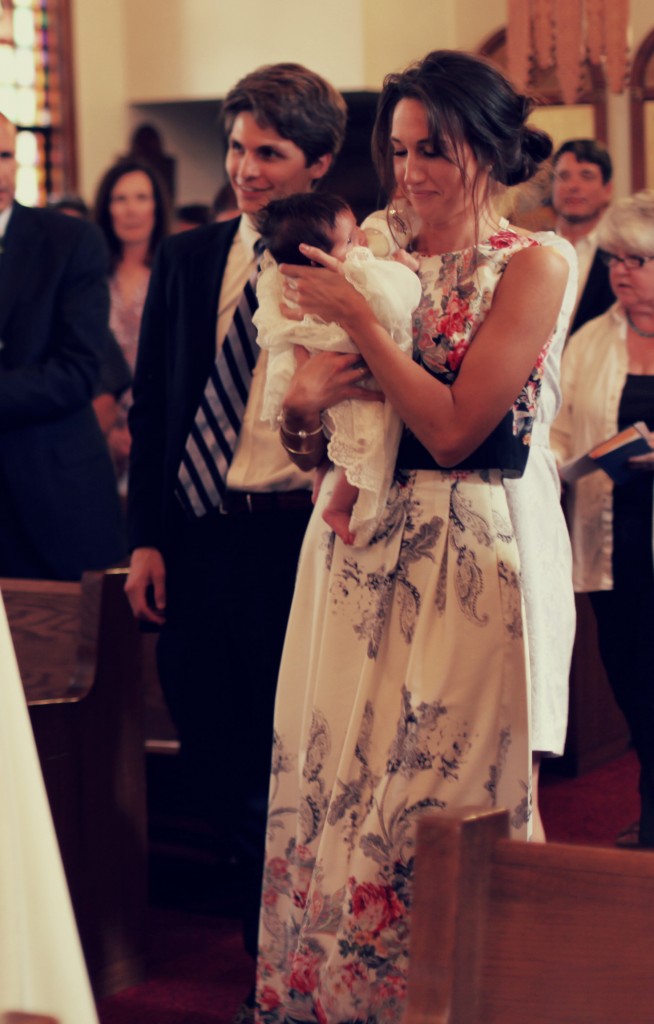 Since Bap­tism is the most impor­tant day in one's life, I though it appro­pri­ate that I make dresses (and a one­sie) for the cer­e­mony and reception.
Gigi wore the bap­tismal gown passed down through the fam­ily, which was sewn by my babcha. It was a beau­ti­ful gown! My babcha did all the (pink) hand stitch­ing on it as well. (Which reminds me….I'm com­ing out with bap­tismal gowns! They should be avail­able for sale later this fall.)
___________________________
I absolutely adored the dress I made for myself to wear for Gigi's baptism.
Last win­ter I made a shorter (and vel­vet) ver­sion of this dress, (see dress here). Unfor­tu­nately, the vel­vet mate­r­ial of the first dress made it dif­fi­cult to see all the details and pleats of the dress. I swore then that I would make this dress design again (before it goes out of style). I was so busy this spring that I never got around to it. But once I was asked to be Gigi's god­mother, I knew I had to do it.
I changed the orig­i­nal pat­tern in a few places. First, I made the skirt of the dress fuller than the orig­i­nal dress pat­tern. (The orig­i­nal pat­tern had the hem taper in.) I spent lots of money on this beau­ti­ful flo­ral fab­ric and I wanted to use as much of the flo­ral pat­tern as I could. Sec­ond, I made the straps slightly thin­ner than the orig­i­nal pat­tern. And lastly, I made the bot­tom bodice layer a stretch cream knit fab­ric. (This made the dress more com­fort­able and easy to wear!)
I made a white silk slip to wear under this dress! I will write some­thing about it in a later post.
THANKS FOR READING
PART 2 WILL BE POSTED TOMORROW!